TG4 All Ireland Ladies Football Intermediate Championship Final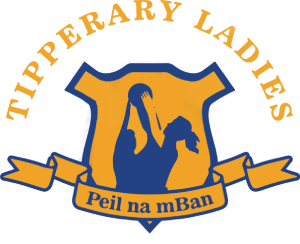 Tipperary finished off a brilliant year
By Paudie Everard, Moyle Rovers
Tipperary finished off a brilliant year of Ladies football as they won the All Ireland Intermediate Final in Croke Park on Sunday 24thSeptember against a fancied Tyrone side. Tipperary were the better side but Tyrone were worthy opponents and chased Tipperary all the way to the final whistle in a high quality entertaining game that tested both sides for stamina and fitness. Tyrone had the first few attacks but a determined and committed Tipperary defence prevented the early chances converting to scores. Gillian O'Brien opened Tipperary's scoring with a point. Aisling McCarthy followed with a pointed free after Roisin Howard had committed bravely to a 50/50 ball. It was twelve minutes before Tyrone had their opening score, a point. Roisin Howard then scored another point following good work by Laura Dillon. Tyrone hit back with a goal to go in front. The Tipperary response was immediate and effective, Roisin Howard had a point and soon after the same player earned a free which was duly converted by Aisling McCarthy. Aisling McCarthy intercepted a Tyrone hand pass and lobbed the out of position keeper to score a super goal which rocked Tyrone and gave Tipperary a huge boost. Gillian O'Brien saw a goal chance well saved by the Tyrone keeper but the same player had a point soon afterwards on twenty minutes. In the space of five minutes Tipperary had hit 1-3 to turn a one-point defect into a five point lead. It was a golden spell that laid the platform for victory. Tyrone had a good goal chance on twenty-three minutes but was put wide from close in. A good Roisin Howard run was off loaded to Aishling Moloney who was impeded on goal shot. The ball fell to Mairead Morrissey who fisted over for a valuable point. The half time score was Tipperary 1-7 Tyrone 1-3.
Tipperary had set up defensively with Jennifer Grant acting very effectively as a sweeper and the Tipperary defence were immense in the first half frustrating and containing the much vaunted Tyrone forward line. The Tipperary forwards had taken their early chances well but were increasingly now being well marshalled by a much tighter Tyrone defence. The second half was a very even affair. Tipperary had good points from play from Aishling Moloney, Mairead Morrissey and two from Gillian O'Brien. Tyrone hit back after each Tipperary score to land points of own and keep the gap at four points. They reduced the deficit to three points on forty-seven minutes. Aisling McCarthy then landed two big frees to push out the advantage for Tipperary to five points. As the game entered the last ten minutes Tyrone stepped up the pressure. Lauren Fitzpatrick made a crucial save before Tyrone scored two points to leave it just a three-point game. Our backs that had played brilliantly all day were not going to concede anything further and they safely closed out the game to the delight of the large Tipperary attendance. Final score Tipperary 1-13 Tyrone 1-10.
Congratulations to Aisling McCarthy on her award of Player of the Match, it is well deserved as she has been an instrumental player throughout the year. Samantha Lambert followed in the footsteps of many a proud Tipperary captain as she climbed the steps of the Hogan Stand to accept the Mary Quinn Trophy from Ladies Football President, Marie Hickey. It was the culmination of a brilliant year and a just reward for really good Tipperary team. As the Tipperary Ladies team and Management reflect on a wonderful season of football they can be rightly proud of their great achievements. They have represented Tipperary's great sporting heritage to the highest standards all the way through 2017. They played with full commitment and courage and proved themselves worthy champions at the end of a hectic schedule. They remain unbeaten in 2017 in a run of games that now stretches to sixteen. (Extra time is an official game). It is a tremendous record on which to sign off the year. Firstly, our congratulations to all associated with ladies football in Tipperary both past and present. This is a victory for all to share in. The Management team deserve great praise. They prepared the girls extremely well and used their vast experience, and management skills to great effect. During the year they have given huge commitment of their time from the opening League game on a cold and damp January day in Enniscorthy to the All-Ireland Final in the September sunshine in Croke Park. The entire panel of players can be extremely proud of their hard work and dedication during the year. Those who did not play on the day can be satisfied that they made their starting colleagues better players by competing for places and pushing the football standard to a very high level. To the players on the day they were magnificent one and all they gave everything they had and left it all on the field of play. The County Board officials and the Tipperary Ladies football clubs who provide the supporting infrastructure through their many volunteers can also be proud of their contribution to this win. To the parents of the players, these girls are tremendous and we would like to thank you for supporting them in playing Ladies Football. Our generous sponsors Camida and others who have supported Tipperary Ladies on this great journey and the many supporters who came to Croke Park to support the team on the day –Thank you all and well done.
Team - Lauren Fitzpatrick; Siobhan Condon, Maria Curley, Emma Buckley; Brid Condon, Samantha Lambert (C), Laura Dillon; Aisling McCarthy (1-4, 4f), Jennifer Grant; Niamh Lonergan, Mairead Morrissey (0-2), Aishling Moloney (0-1), Orla O'Dwyer, Gillian O'Brien (0-4), Roisin Howard (0-2).
Subs used - Caoimhe Condon for Niamh Lonergan (47th), Catriona Walsh for Rosin Howard (56th).
Panel - Patricia Hickey, Anna Rose Kennedy, Rachael O'Donnell, Sarah Everard, Laura Morrissey, Anna Carey, Elaine Kelly, Alison Lonergan, Aine Fitzgerald, Evrena Everard, Nicola Loughnane, Elaine Fitzpatrick, Aoibhe O'Shea.
Manager - Shane Ronayne.
Mentors - Alan O'Connor, Elaine Harte, Tony Smith.
Physio - Ronan Crosse.
---
Tipperary ladies football team crowned All-Ireland champions
By Brian McDonnell, Tipperary Star
Tipperary's Aishling Moloney and Samantha Lambert. Photo: Sportsfile
The Tipperary ladies football team were crowned All-Ireland champions at Croke Park, Dublin on Sunday afternoon - the Premier County completed the 2017 season undefeated in competitive action when seeing off Tyrone in the TG4 All-Ireland Ladies Football Intermediate Championship final (1-13 to 1-10).
Tipperary won the division three league title and followed up that national honour when registering a 34-point Munster championship win (8-16 to 1-3) over Limerick before beating Clare in the provincial final (4-9 to 0-14). Following the Munster campaign Tipperary took on an outstanding Wexford side and prevailed after extra-time (2-15 to 3-11) at the quarter-final stage of the competition before seeing off Meath in the last four (3-19 to 2-19).
The Tipperary team was captained by Ardfinnan's Samanatha Lambert while Aisling McCarthy (Cahir) scored the key goal in the All-Ireland final.
Tipperary ladies football manager Shane Ronayne (Cork) is joined on the management team by strength and conditioning coach-selector Alan O'Connor (Cahir), selector Tony Smith (Moyle Rovers) and selector Elaine Harte (Cork).
TIPPERARY SQUAD
The Tipperary ladies football squad: Emma Buckley (Cahir), Anna Carey (Clonmel Commercials), Bríd Condon (Aherlow), Caoimhe Condon (Brian Ború's), Siobhán Condon (Aherlow), Maria Curley (Templemore), Laura Dillon (Ardfinnan), Sarah Everard (Moyle Rovers), Evrena Everard (Moyle Rovers), Áine Fitzgerald (Moyle Rovers), Elaine Fitzpatrick (Templemore), Lauren Fitzpatrick (Ballymacarbry, Waterford), Jennifer Grant (Brian Ború's), Patricia Hickey (Brian Ború's), Roisín Howard (Cahir), Elaine Kelly (Cappawhite), Anna Rose Kennedy (Aherlow), Samantha Lambert (Ardfinnan, captain), Alison Lonergan (Galtee Rovers), Niamh Lonergan (Moyle Rovers), Nicola Loughnane (Thurles Sarsfields), Aisling McCarthy (Cahir), Aishling Moloney (Cahir), Laura Morrissey (Brian Ború's), Mairéad Morrissey (Brian Ború's), Gillian O'Brien (Moyle Rovers), Rachel O'Donnell (Cahir), Orla O'Dwyer (Boherlahan), Aoibhe O'Shea (Mullinahone) & Catherina Walsh (Moycarkey-Borris).
2017 CAMPAIGN
Lidl National Ladies Football League Division Three
Tipperary 4-10 Wexford 2-10
Tipperary 0-21 Roscommon 1-10
Tipperary 5-14 Down 0-3
Tipperary 5-10 Meath 2-10
Tipperary 5-7 Offaly 0-7
Tipperary 4-13 Leitrim 2-12
Tipperary 4-16 Limerick 0-6
League Semi-Final - Tipperary 7-17 Offaly 2-6
League Final - Tipperary 0-12 Wexford 2-6
League Final Replay - Tipperary 0-15 Wexford 1-10

Munster Intermediate Ladies Football Championship Semi-Final - Tipperary 8-16 Limerick 1-3
Munster Final - Tipperary 4-9 Clare 1-14

TG4 All-Ireland Intermediate Ladies Football Championship
Quarter-Final - Tipperary 2-15 Wexford 3-11
Semi-Final - Tipperary 3-19 Meath 2-19
All-Ireland Final - Tipperary 1-13 Tyrone 1-10
---
CHAMPIONS! Terrific Tipperary ladies win the All Ireland in stunning fashion
By Michael Heverin, The Nationalist
Ardfinnan's Samantha Lambert captained Tipperary to All Ireland glory
Heroines in every sector of the field drove magnificent Tipperary to wonderful All Ireland Intermediate Ladies Football final glory at Croke Park this afternoon.
It was a magical display from the Tipperary girls who proved much too strong for a game Tyrone side.
The final margin was only three points, 1-13 to 1-10, but Tipperary were by far the better side as their return to senior status was achieved in stunning fashion.
The magnificent Aisling McCarthy won Player of the Match and it was truly deserved. She was unerring from frees, set up the attack with some wonderful passing and scored the crucial Tipp goal just three minutes after Tyrone had shocked Tipp with a goal of their own.
McCarthy's goal was vital as it restored Tipp's momentum and they drove on after that.
Tipperary celebrate with the cup.
McCarthy was brilliant but so was captain and centre back Samantha Lambert; the tireless Jennifer Grant sweeping up at the back; the graceful Aisling Moloney who moved from attack to defence wherever she was needed; the timeless Mairead Morrissey who showed her experience and guile; the outstanding RoisinHoward; and the impeccable Gillian O'Brien for her scoretaking.
From goalkeeper Lorraine Fitzpatrick out, who was cooolness personified and whose kickouts were flawless, everyone on the team played their part in a wonderful boost for the game in the Premier County.
Tyrone started strongly but when they missed a succession of chances, Tipp swung into gear and Gillian O'Brien and McCarthy from a free put them two up after nine minutes. After the Ulster side opened their account, the outstanding Roisin Howard pointed for Tipp but then a Tyrone goal from Grainne Rafferty, who jinked and weaved her way through the defence, put the Northerners 1-1 to 0-3 up.
Captain Fantastic Samantha Lambert is lifted by her team mates.
But Tipp replied like the champions they were to become. Roisin Howard pointed within a minute, McCarthy added a free and then the Cahir superstar goaled when she blocked down a Tyrone clearance and lobbed the ball over the advancing keeper into the net.
Brilliant play from Orla O'Dwyer set up Gillian O'Brien to make it 1-6 to 1-1 after 21 minutes. Tyrone reduced the margin but Mairead Morrissey pointed from close range from a Moloney pass when it looked like the Cahir player should have won a penalty. And a late Tyrone free made it 1-7 to 1-3 at the break.
The second half was a close affair but Tipp always had the advantage. Moloney came more into the game and her precise passing created space for the forwards. She opened the scoring herself three minutes in. Tyrone pointed with Gillian O'Brien again showing accuracy to split the posts.
Emma Jane Girvan hit one of the points of the game for the Ulster girls to make it 1-9 to 1-5 but Mairead Morrissey hit a great point to push the gap out to five.
Ardfinnan's finest, Samantha Lambert, lifts the cup.
O'Brien responded to a Tyrone point to keep it at five and then Orlagh O'Dwyer could have wrapped up the game when put in the clear with two Tyrone defenders on the ground after running into each other but her shot lacked conviction.
Two points in a row for Tyrone brought the margin down to three with thirteen minutes to go but Tipperary managed the game brilliantly from there to the end. They were accurate in their passing, took no chances and kept the Tyrone defence stretched. A tiring Tyrone defence fouled Lambert and Morrissey in the space of two minutes and McCarthy pointed both frees.
There were some nerves again when Tyrone finished with a burst and two late points brought the margin down to three but Tipperary defenced heroically and no more opportunities were conceded.
Aisling McCarthy finished with 1-4 and landed the player of the match award with Gillian O'Brien chipping in with four points while Róisín Howard and Mairead Morrissey, a survivor from Tipp's previous intermediate win in 2008, landed two points each.
Scorers for Tipperary – A McCarthy 1-4 (0-4f), G O'Brien 0-4, M Morrissey & R Howard 0-2 each, A Moloney 0-1.
Scorers for Tyrone – G Begley 0-4 (3f), G Rafferty 1-0, E.J. Gervin & M Canavan (2f) 0-2 each, N O'Neill & C McCaffrey 0-1 each.
Tipperary – L Fitzpatrick; S Condon, M Curley, E Buckley; B Condon, S Lambert, L Dillon; A McCarthy, J Grant; N Lonergan, M Morrissey, A Moloney; R Howard, G O'Brien, O O'Dwyer.
Subs – C Condon for Lonergan (47), C Walsh for Howard (56).
Tyrone – S Lynch; E Brennan, E Mulgrew, C Conway; N Woods, S Cunningham, C Hunter; M Mallon, E.J. Gervin; N Hughes, L Quinn, Á Canavan; N O'Neill, G Begley, G Rafferty.
Subs – N McGirr for Conway (20), M Canavan for Rafferty (37), E Hegarty for Á Canavan (37), C McCaffrey for Quinn (50).
Referee – G McMahon (Dublin).